Balinese
Crispy Fried Duck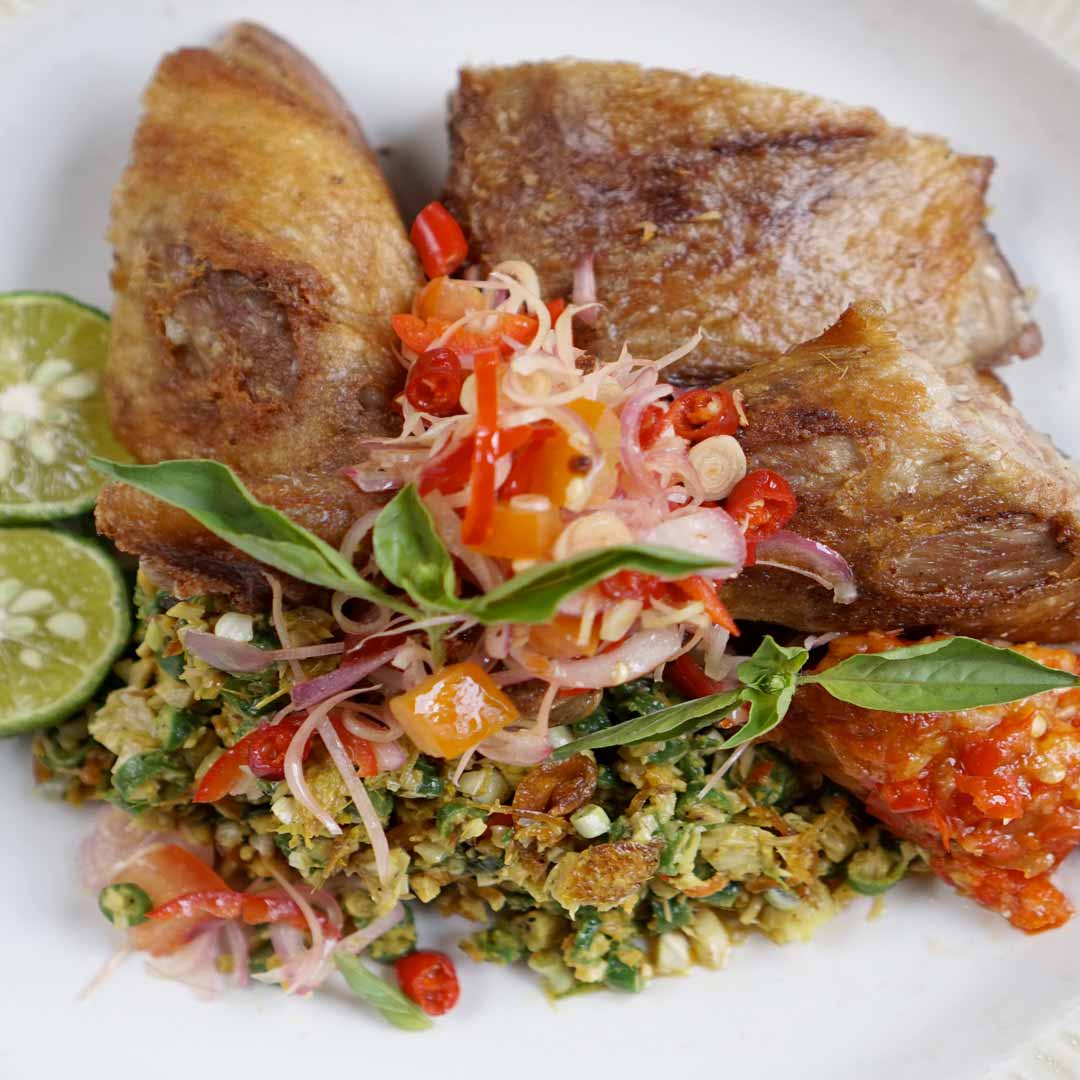 Easy to cook up
The trick of the tender meat is to marinate and slow cook it for about an hour before deep frying.
While waiting for the duck to marinate, it's a good idea to prepare the lawar and sambal matah.
Serve the dish with the lawar and top it off with some sambal bajak and sambal matah.
Main Ingredients
1 whole duck, cut into 4 parts
4 tablespoons vegetable oil
2 pieces salam leaves
2 pieces lime leaves
2 stalks lemongrass, bruised
Water to just covering the duck
Oil to fry
Duck Paste
2 cm knob ginger, peeled
2 cm kencur
2 cm knob galangal, peeled
8 cloves garlic
1 teaspoon shrimp paste, fried
½ teaspoon coriander seeds
1 teaspoon pepper
1 teaspoon sugar
2 teaspoons salt
Hujan Locale's Bebek Goreng
Ingredients
3 tablespoon kalasan dressing (see below)
1 tablespoon fried shallot
1 tablespoon fried garlic
1 teaspoon fried bird's eye chilli
1 teaspoon cooked out shrimp paste in vegetable oil
A pinch of pepper (to taste)
A pinch of salt (to taste)
2 pieces lime leaves, julienned
2 Balinese lime (any lime will do), juiced
½ cup of young jackfruit, boil till half cooked for about 10 minutes & chopped
1 cup of long bean, blanched and small sliced
1/3 cup of hard coconut flesh, grilled, shave the skin and grated
Method
Assembling the lawar kalasan
In a mixing bowl, combine kalasan dressing with fried shallot, fried garlic, fried bird's eye chilli, shrimp paste and seasoning with salt, pepper and fresh Balinese lime juice. Add in all vegetables and grated grilled coconut flesh. Adjust the seasoning before serving.
A refreshing and kicking Lawar
Ingredients
2 pieces lime leaves
1 stalk lemongrass
1 piece salam leaf
2 tablespoons bumbu gede Ubud paste (see pantry)
1 cup coconut cream
Oil to cook
Method
Heat oil in the pan, fry the paste for about 5 minutes with lime leaf, lemongrass and salam leaf in a low heat. Once the paste is aromatic then add in coconut milk and simmer for 10 minutes until reduce by half.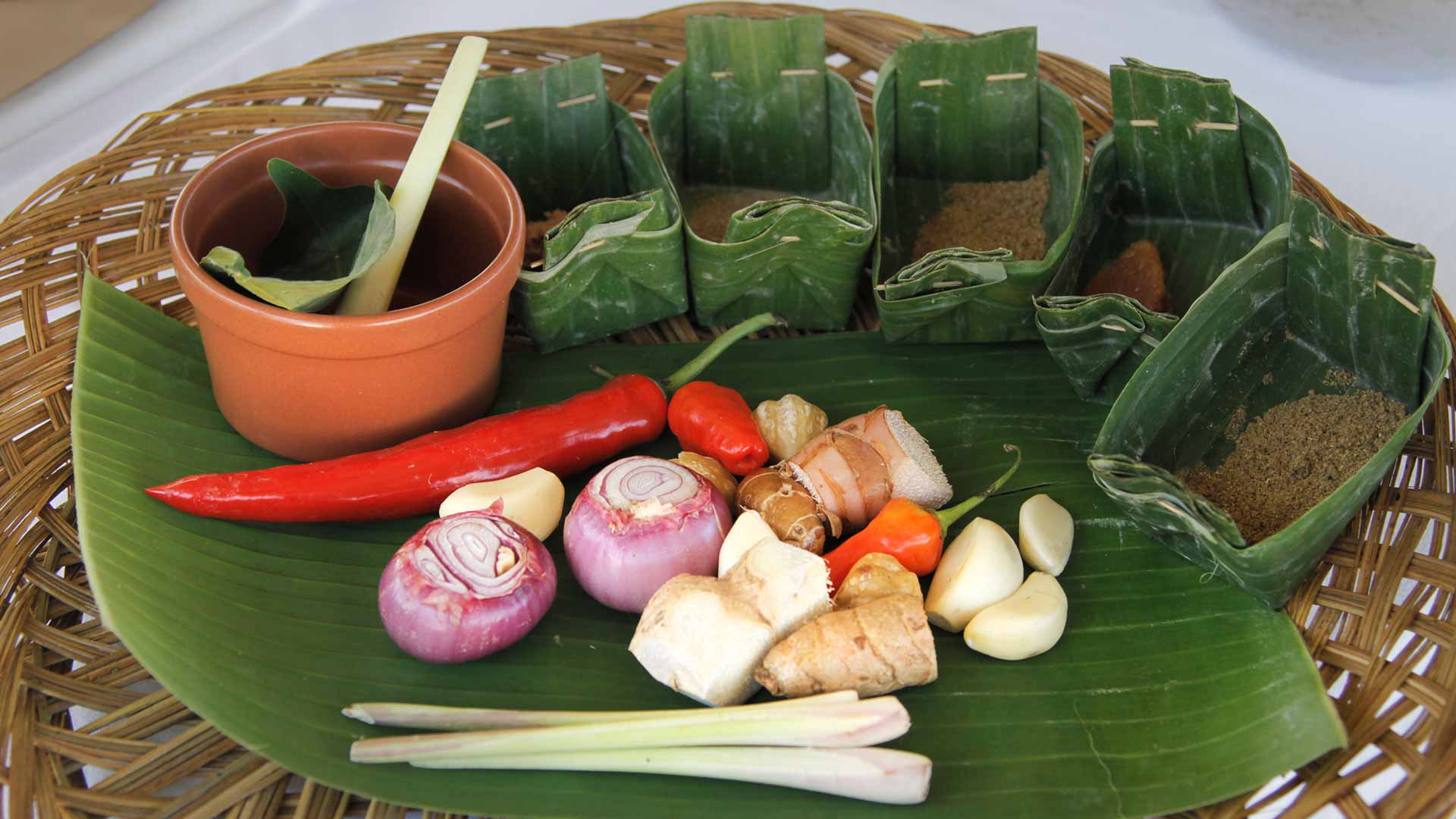 Ingredients for the Bumbu Gede
Ingredients
1 knob galangal, peeled
1 knob ginger, peeled
¼ cup turmeric, peeled
2 stalks lemongrass, finely chopped
¼ cup kencur
12 pieces green small chillies
½ cup garlic, peeled
2 tablespoons wewangen (optional)
2 tablespoons coriander seeds
1 tablespoon black pepper
Ingredients to fry
3 pieces salam leaves
2 pieces lime leaves
1 stalk lemongrass
Oil to cook
Method
Chop all ingredients finely, except salam leaves, lemongrass and lime leaves, or blend if not up to doing it traditional way.
Keep half of the bumbu gede Ubud paste once finely chopped to one side for the kalasan dressing.
Heat up some oil in a pan, add in lemongrass, salam leaves and lime leaves, add in the rest of bumbu gede in and saute for 5 minutes until the oil has separated. Set to one side and allow to cool.
Garnish
sprigs of lemon basil
fried shallots
Step by Step Instructions
step 1 : blend
Blend all duck paste ingredients into a fine paste.
step 2 : marinade
Marinate the duck with the paste and set aside for several hours until the paste is absorbed into the duck meat.
step 3 : stir fry
Heat some oil in the sauce pan, put the marinated duck with the paste, salam leaves, lime leaves and bruised lemongrass. Stir well and fry until the duck is coloured and golden brown.
step 4 : pouring
Pour over some water just about to cover the duck, cover your sauce pan with the lid and cook over low heat until the duck meat is tender about 1 hour.
step 5 : cooling
Remove the duck from the pan and allow to cool.
step 6 : second fry
In the new sauce pan, heat some oil over medium heat and then fry the boiled duck until dry and crispy. Remove and drain.