with dry egg noodles, chicken dumpling and choy sum, served with prawn cracker, chicken broth and sriracha sauce.
A new cooking experience
We're embracing technology while also acknowledging the world situation. So, I've been doing my best to set up my restaurant Monsoon remotely. Although I can't be in Hong Kong personally, I've regularly liaised with Chef Budiana and the Monsoon team via video conferencing and working live online with Zoom. Then came an idea: to offer people a new experience of cooking from home.
We start this new masterclass series with a pillar of the Indonesian food culture, derived from the traditional Chinese cooking techniques: the "mie ayam pangsit" (seasoned noodles served with diced chicken on top)
Main Ingredients
chicken mince 60g
dry egg noodles 90gr
choy sum chopped 50gr
chicken dumplings 4 pcs
bamboo and water chestnuts diced 30gr
garlic oil 1 tbsp
dark soy 1 tea spoon
light soy 1 tea spoon
kecap manis (sweet soya sauce) 1 tea spoon
Noodles seasoning
chicken powder 1 tbsp
sugar 1 pinch
salt 1 pinch
pepper 1 pinch
mix with some hot water, reserve.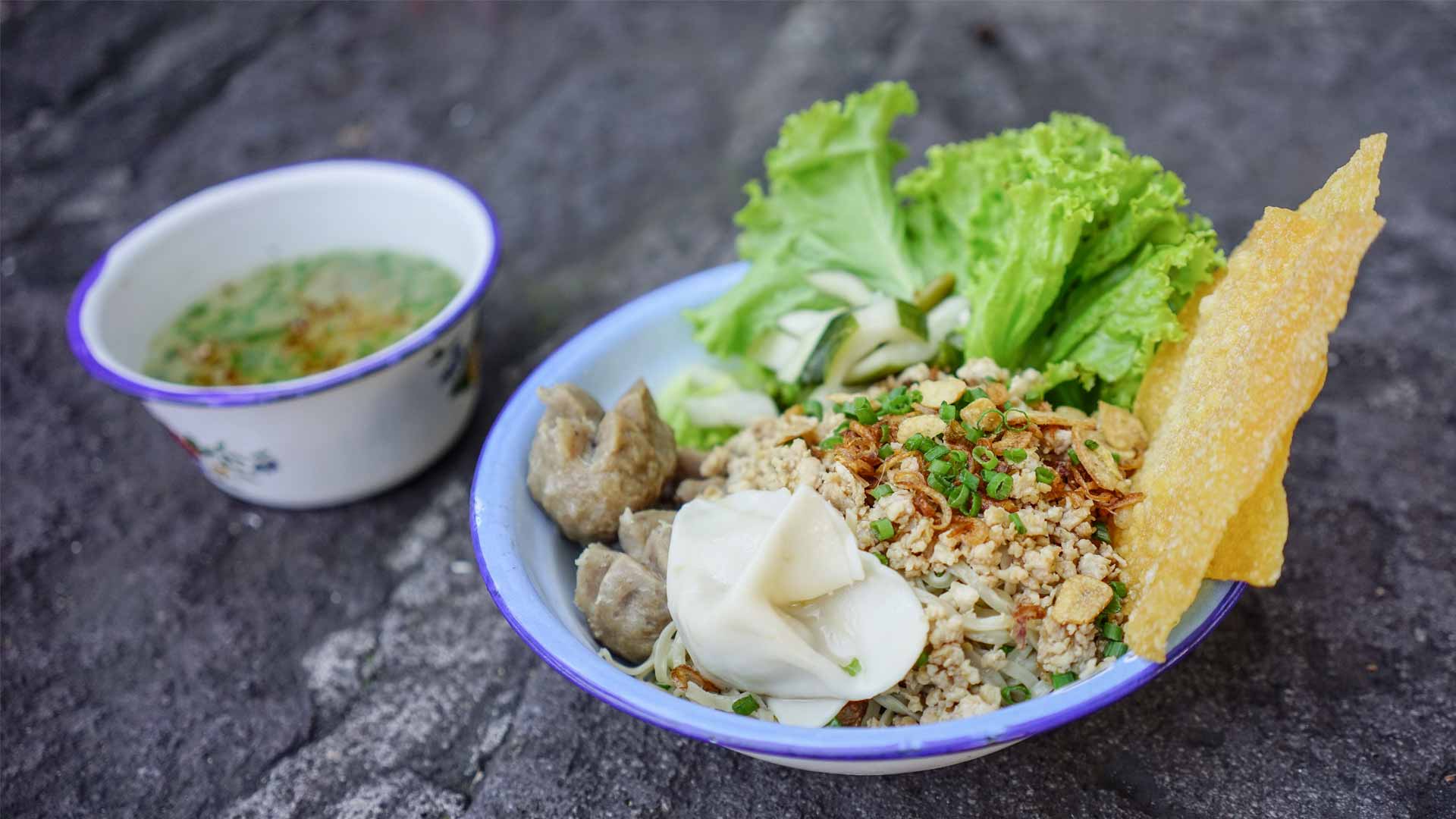 A variant from Malang, Java Indonesia
Chicken broth
2 Tablespoons of Chicken Powder per cup of water
coriander root
ginger
white pepper
boil all ingredients together
drain the broth
reserve
Garnish
coriander leaf ginger julienned
Step by Step Instructions
step 1 : wok
Warm garlic oil in a wok or a pan
step 2 : stir
Stir your chicken minced, then add bamboo and water chestnuts
step 3 : seasoning
When the meat is coloured, add dark soy, light soy, then sweet soy
step 4 : stir
Stir well until darken. Then reserve.
step 5 : blanch
In the meantime, blanch the dumpling until soft. blanch the choy sum blanch noodles
step 6 : seasoning noodles
Drain noodles and mix with the noodles seasoning
step 7 : dressing
Put seasoned noodles in a bowl Add your blanched choy sum Add the dumplings Top with your seasoned chicken Add a prawn cracker Garnish Serve the chicken broth aside, and a cup of Sriracha sauce
Selamat Makan
Enjoy your Chicken Mie Pangsit!