HOME > COOKING CLASSES > COOKING WITH THE EXPERT
COOKING WITH CYCLING
Combine the joys of exploration, cycling, and culinary artistry in an unforgettable experience brought to you by Will Meyrick's Cooking Retreat.
BOOK NOW
Immerse yourself in the breathtaking beauty of Bali's landscapes while uncovering the secrets of Balinese cuisine through this dynamic program. Whether you're a food lover, an adventure seeker, or a culture enthusiast, this is your chance to indulge your senses and connect with Bali in an authentic and immersive way.
Price
Embark on this adventure for IDR 1.500.000 Net for a minimum of two people, ensuring a personalized and immersive journey.
Starting Time
The morning sun ushers in your adventure at 6:30 AM, creating a magical ambiance for your exploration.
Duration
Set aside approximately six hours for this holistic experience, a fusion of cycling, culture, and culinary exploration.
Language
Language is no barrier to the magic of taste – the entire experience is conducted in English, ensuring that every story, technique, and flavor is shared seamlessly.
A Blend of Cycling and Culinary Magic
"Cooking with Cycling" invites you to kick-start your day with a journey that awakens both your body and your taste buds. Begin your adventure with a morning coffee session and a short briefing at the starting point in Belayu, Marga Tabanan. From here, set out on a cycling exploration that leads you through rice fields, alongside flowing rivers, and to the heart of Balinese culture.
A Multi-Faceted Balinese Experience
Engage in the rich tapestry of Balinese life as you visit a Balinese family temple, a testament to the island's spiritual essence. Upon departure, a signed disclaimer form ensures your safety as you traverse the picturesque landscapes. Your journey then takes you to Mengwi's traditional market, where you'll be immersed in the vibrant tapestry of Balinese market life.
Culinary and Cultural Discovery
The market tour offers a glimpse into the heart of Balinese cuisine, as you interact with Balinese offering sellers, spice and herb vendors, and local fruit and vegetable merchants. Immerse yourself further as you indulge in a staple Balinese breakfast right at the market – an experience that encapsulates the island's flavors and spirit.
Cooking with the Finest
As the sun climbs higher, your adventure takes you to Villa Cinta in Canggu, where culinary mastery awaits. Led by one of our skilled chefs, you'll delve into the world of Balinese cooking. Prepare to create two exquisite Balinese main courses, master the craft of two distinct sambals, and discover the secrets of one traditional Balinese vegetable side dish.
A Feast of Culinary Delights
After your hands-on cooking session, it's time to savor the fruits of your labor. The scent of freshly prepared dishes fills the air as you enjoy a sumptuous lunch, surrounded by the lush beauty of Villa Cinta.
Duck Satay Lilit
Discover the art of crafting satay with a twist. Using minced duck and an array of herbs and spices, you'll create satay lilit that's bound to tantalize your taste buds. It's an ode to the island's rich agricultural heritage and culinary innovation.
Karangasem Prawn Curry
A symphony of succulent prawns, aromatic spices, and creamy coconut milk, this curry pays homage to the coastal town of Karangasem. As you learn the art of balancing flavors, you'll uncover the essence of Balinese seafood cuisine.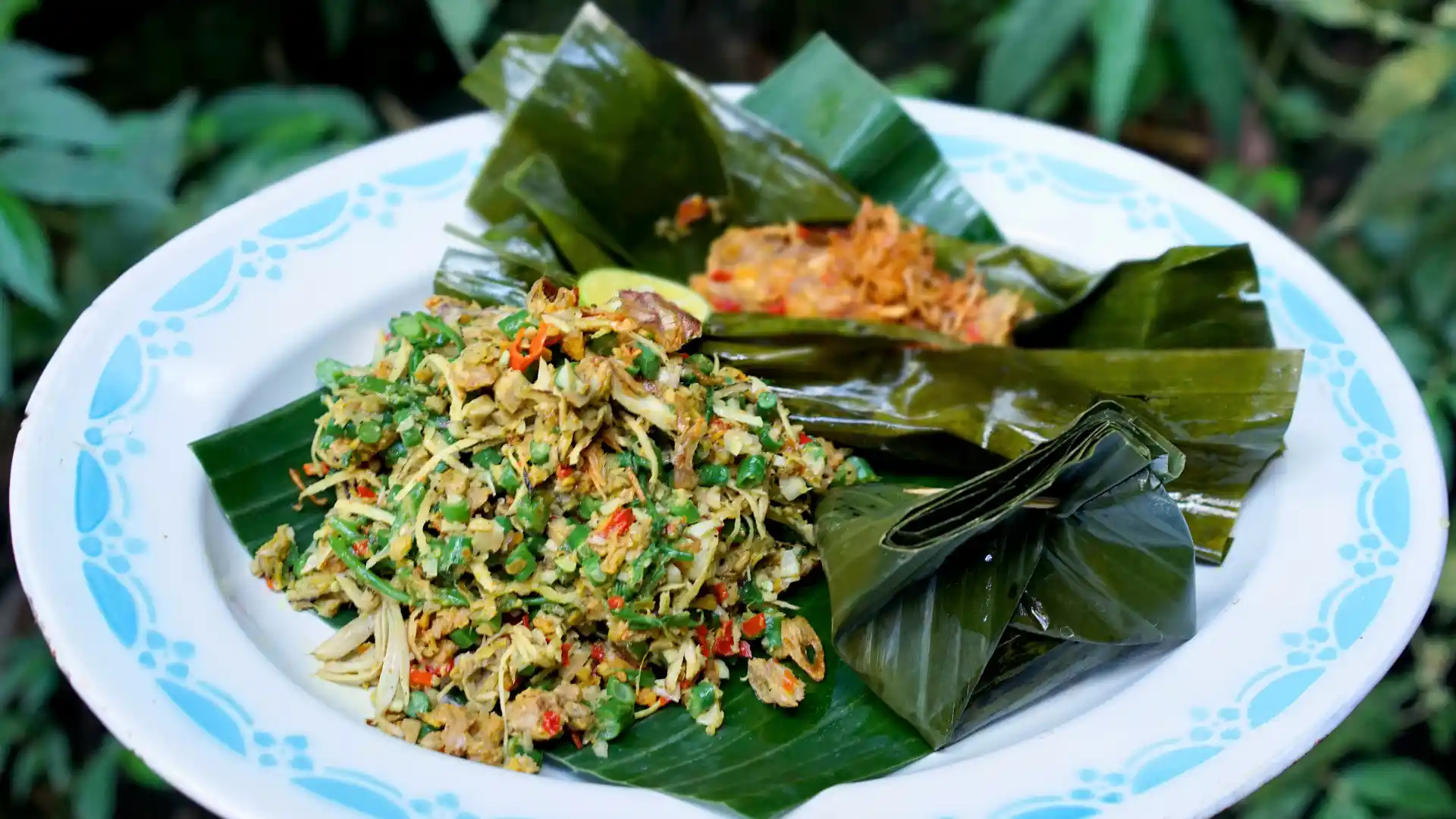 Vegetable Lawar
Get in touch with Bali's agrarian roots as you prepare vegetable lawar, a dish that combines minced vegetables with grated coconut and an assortment of spices. It's a celebration of harmony between nature and culinary artistry.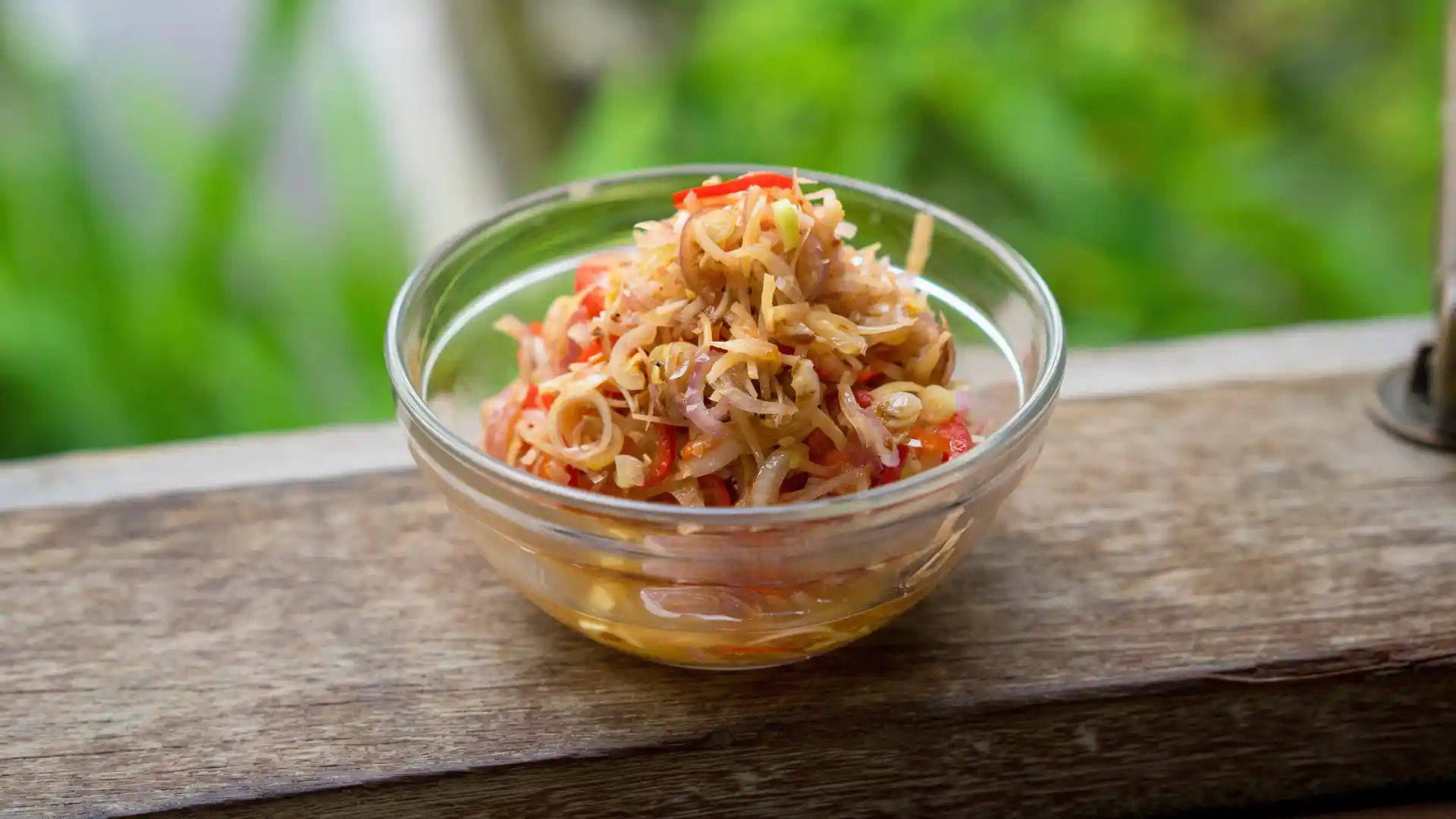 Sambal Matah
No Balinese meal is complete without sambal, and sambal matah stands as a testament to the island's love for fiery condiments. Learn to master the delicate balance of shallots, lemongrass, chili, and coconut oil, creating a zesty accompaniment that enhances every dish.
Sambal Kecap
Delve into the world of sambal kecap, a sweet and savory sauce that adds depth to your culinary creations. Uncover the magic of soy sauce, lime, and shallots, and how they combine to elevate your dishes.
UNCOVER BALI IN ALL ITS GLORY
"Cooking with Cycling" offers a one-of-a-kind way to immerse yourself in Bali's culture, landscapes, and culinary treasures. Whether you're captivated by the thrill of cycling, the art of cooking, or the allure of Balinese traditions, this program promises an experience that transcends the ordinary.
Join Us in Canggu, Bali
Join us on this extraordinary journey and uncover the heart and soul of Bali in a way that will leave you with cherished memories and newfound skills to take back home. Reserve your spot now and get ready to pedal and savor your way through Bali's enchantment.
BOOK YOUR EXPERIENCE NOW: COOKING WITH CYCLING